Building Pride in our industry and beyond.
Creating a more equitable, safe and sustainable industry as a whole, and building better futures for our employees, our clients, and their communities.
From the very inception of our company, ESG (Environmental, Social, Governance) principles have been at the heart of our operations. Our Founder and CEO, Mandy Rennehan, a trailblazing gay woman in a predominantly male industry, had to break through numerous barriers to make her mark. That struggle led to the birth of a company that prioritizes diversity, inclusivity, and sustainability above all else. For the past 30 years, we've championed these values, carving out a unique space for ourselves in the industry. We are proud of our commitment to not just doing business, but doing it responsibly and ethically. As we move ahead, we pledge to continue pushing the needle forward, effecting positive change in our industry, and the world.
Our commitment to Diversity, Equity & Inclusion.
As a certified gay and woman owned business, our mission from day one has been to foster an environment that respects, supports, promotes, and celebrates the diverse backgrounds and perspectives of all our employees.
Our DEI policies and practices are rooted in 4 key commitments:
• Create and sustain an environment free from discrimination and intimidation.
• Ensure everyone feels safe, respected, supported and empowered in their roles at Freshco.
• Provide learning opportunities and training related to DE&I.
• Measure and track impact of DE&I practices consistently and hold ourselves accountable.
Our commitment to Giving Back.
At Freshco, we recognize philanthropy and mentorship as critical avenues for fostering diversity and inclusivity. We are committed to opening doors in our industry for those who have been historically excluded, including women and members of the LGBTQ2S+ community. We firmly believe that a diverse workforce is not just the right thing to do, but a business necessity, offering fresh perspectives and creative insights that drive innovation.
Freshco is a key sponsor of Jill of all Trades (JOAT), a program that invites young women (grades 9-12) to "try-a-trade" for a day and explore careers and education in the skilled trades. Our CEO Mandy Rennehan was recently named as the program's North American Brand Ambassador.
Our commitment to Supplier Diversity.
As a diverse supplier ourselves, we are dedicated to cultivating a more inclusive supply chain and broadening opportunities for underrepresented businesses. We actively encourage our business partners to seek out diverse suppliers, and also encourage eligible businesses to obtain certification themselves.
Where we are:
34% of our vendor base is diverse
Our goal:
Our commitment to Innovation.
Who says construction can't be green? We initially designed the "Freshco Clean Room" as a means to protect our retailers assets during construction projects. This portable structure can be used on any site: with a fast set up and tear down time, it not only significantly reduces the amount of plastic waste on a job (not to mention dust and debris), it allows us to work quickly and efficiently. Just one way we're doing our part, creating sustainable solutions that benefit the client, and the planet. 🌎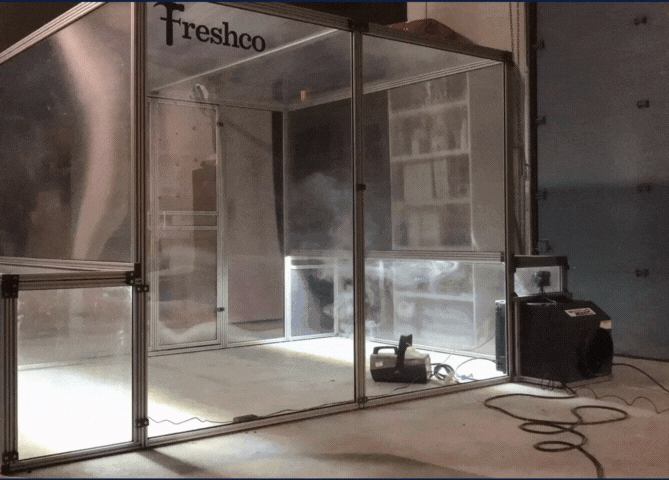 Ready for a facilities partner that's
caring
responsible
diverse
different
certified diverse
fun?
Get in touch with us today!